Mental Health First Aid Training
Montcalm Care Network is proud to offer Mental Health First Aid and Youth Mental Health First Aid free to our community. As part of a national, evidence-based training program, participants learn how to recognize risk factors and warning signs of a mental crisis.
Just as CPR can help you to assist someone that is having a heart attack, Mental Health First Aid prepares you to effectively and confidently interact with a person experiencing a mental health crisis. Mental Health First Aiders learn a five-step action plan that guides them through the process of reaching out and offering appropriate support.
To learn more about Mental Health First Aid USA, visit www.mentalhealthfirstaid.org.
You Are Not Alone
Mental disorders are common. One in every 5 people has some kind of mental illness, such as schizophrenia, bipolar disorder, anxiety, or depression. Just like any illness, a mental illness can make things difficult for your physical health, relationships, family, or work.
Some people who develop a mental illness recover completely; others may have repeated episodes of illness with relatively stable periods in between. Still others live with symptoms of mental illness every day. Symptoms may be moderate, or serious and cause severe disability.
The best way to begin the road to recovery and support is to educate yourself.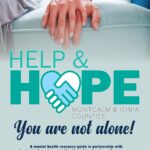 Help & Hope Resource Booklet - Click to view the 2023 Help & Hope resource guide created in partnership with Montcalm Care Network, The Right Door for Hope, Recovery and Wellness, and the Daily News.