Our Mission
To be the integrated care provider of choice for the residents of Montcalm County by delivering services and supports that result in better care, better outcomes and better value for those we serve.
Our Vision
To be a valued partner in building a community that is committed to wellness and embraces the full participation of every citizen.
Quality
The Montcalm Care Network has adopted, and is committed to, Quality Assessment and Performance Improvement (QAPI) philosophy and principles that achieves the organization's mission, vision and values and through ongoing measurement and interventions, improvement in aspects of clinical care and non-clinical services that can be expected to affect consumer health status, quality of life, and satisfaction.
Consumer Experience with Services
Consumer perception of care information is vital to improving quality of care, creating better linkages between processes and outcomes of care, increasing provider accountability, and refining risk management strategies. It is the goal of the Montcalm Care Network that consumer perception of care shall be one of overall satisfaction of services. Consumers are periodically surveyed regarding their experience with services. This includes getting feedback at the start of service, periodically throughout their service experience, and after service ends. Information on these survey findings can be found at these links:
Access Experience with Care
Annual Consumer Satisfaction Survey 2019
End of Service Survey FY19
Community Excellence Award
Montcalm Care Network is pleased to present the 2019 Community Excellence Award to Chris Williams, Recovery Coach for Randy's House in Greenville.  This award is presented to an individual or organization in our community who exemplifies extraordinary concern, advocacy or leadership aimed at improving the quality of life for persons who have mental illness, intellectual/developmental disabilities and/or co-occurring substance use disorders in our community.  We thank Chris for his compassion, advocacy, and dedication.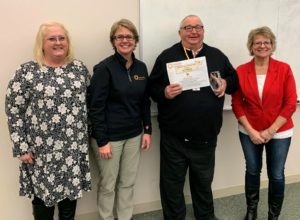 (photo from left to right:  Kathy Lobert, member MCN Board of Directors; Tammy Warner, MCN Executive Director; award recipient Chris Williams; Sally Culey, MCN Quality & Information Services Director.)
Performance Measures
Quality assessment and performance improvement is a continuous process. It involves measuring the functioning of important processes and services, and, when indicated, identifying changes that enhance performance. These changes are incorporated into new or existing work processes, products, or services with monitoring of performance to ensure improvements are sustained. Specific performance indicators are selected and monitored by MCN, the Michigan Department of Health and Human Services (MDHHS), and our regional entity Mid-State Health Network (MSHN). Measures align with the quadruple aim of our Strategic Plan– for Better Care, Better Outcomes, Better Value and a Collaborative Effective Workforce.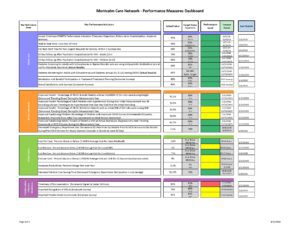 Freedom of Information Act
Montcalm Care Network (MCN) is a public body required by law to comply with Michigan's Freedom of Information Act, Public Act 442 of 1976, as revised ("FOIA"). It is MCN's policy to comply with FOIA by granting eligible person with access to MCN's public records, unless those records are exempt from disclosure by law. The following Policy and Procedure ensures uniformity in MCN's practices and procedures in releasing public records, and the charging of fees to process a FOIA request. A Public Summary of FOIA Policy and Procedure is also included, providing a brief overview of these documents. A FOIA Fee Itemization Schedule has additionally been provided to give people an idea of what cost is permissible, under FOIA, for MCN to charge for the searching, redacting, and producing of public documents.
Any questions, and any request for FOIA information, may be directed to MCN's FOIA Coordinator at info@mcbh.org, via facsimile at (989) 831-7578 (Attn: FOIA Coordinator), or by mail addressed to the FOIA Coordinator at MCN's current business address.
FOIA Documents
Summary
Policy
Procedure
Fee Itemization Schedule (Form)
Affidavit of Indigence Form